RESIDENTIAL SERVICE AGREEMENTS
ABOUT OUR SERVICES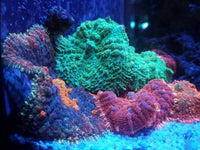 What We Offer
Flexible schedules including evenings and weekends at no additional charge.
Free consultation for any freshwater, marine, reef, and planted system.
New aquarium installation and aquarium set-up hardscape/aquascape, nitrogen cycle, initial stocking.
Training, teaching, and coaching.
Troubleshooting and emergency service.
Aquarium monitoring service.
Servicing the Bellevue to Lake Stevens, WA.
Standard Aquarium Service Includes
Water change (water conditioner/dechlorinate and biological booster included.
Substrate Vacuum.
Full and thorough cleaning of algae from all aquarium glass/acrylic surfaces.
Cleaning of covers and light fixtures of algae and mineral deposits.
Cleaning/rinsing/replacement** of readily accessible filters, sponges and pads
Chemical testing of water/tank health diagnosis
Visual check of equipment, air and water flow
Visual check of fish for headcount, disease, swimming and breathing
Cleaning protein skimmer (saltwater tanks)
Refilling of auto feeder if supplied
Balance aquarium chemistry if needed, etc.
SCHEDULE APPOINTMENT TODAY!
Over 35 years of experience!
Bluewater Reef Aquatics offers aquarium service and aquarium maintenance in the Bellevue to Lake Stevens, WA for freshwater, marine, reef, and planted aquariums. Even turtles!
We offer aquarium installation, and aquarium setup in the Bellevue to Lake Stevens, WA. We can sometimes save you money and time avoiding unnecessary equipment or processes.
Free consultations for aquarium service and aquarium installation. Advice and experience is always free!
We pride ourselves with attention to detail and cleanliness.